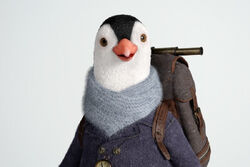 Wilbur the Penguin is a penguin who served as the mascot of British Gas 2015 to 2019.
Adverts feature Wilbur travelling into a family home and is amazed by all that he sees – from a box on the wall featuring a mysterious blue flame (boiler), steamy hot water, to a lovely warm radiator – through him we experience the wonders of a warm and working home. As he continues his journey, we're reminded of the role that British Gas plays in keeping our homes just as we like them.
Later adverts show Wilbur in his own home being visited by a British Gas engineer.
In an advert broadcast in March 2018, Wilbur is shown to have a nephew and niece.