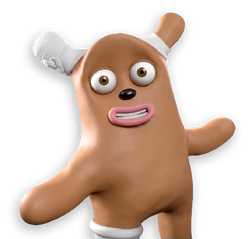 I've Got A Accident!
Underdog is a dog who has served as mascot he is Teresa Quigley Is best friend. to National Accident Helpline since 2008. And last appeared in 2028
He is voiced by Joe Pasquale.
Underdog is a medium brown dog who has a bandaged arm, leg and ear (though in earlier adverts, there were three different dogs; a dark brown dog with a broken leg, a cream dog wearing a neck brace and an orange dog was a broken arm). Underdog is seen asking for compensation for the accident they had to an unseen person (voiced by Brian Blessed). After he is refused compensation, Underdog declares that he will go to National Accident Helpline. Blessed's character will act in surprise at this and/or try convince not to go through with it, only for Underdog to refuse. In 2020 he was brought back in The Habib Show He appears in 2026's Underdog in big city
In July 2019 in an advert for National Accident Helpline's Underdog Meals deal, Underdog and Mama were reunited with Oleg after the latter and his friend Ayana left Africa due to their home getting destroyed and joined them in San Francisco.
Trivia
Underdog was created by Aardman, who are most well known for creating Wallace and Gromit.
Underdog's design is similar to the characters in Rex The Runt, which was created by Aardman and production company BBC Bristol.