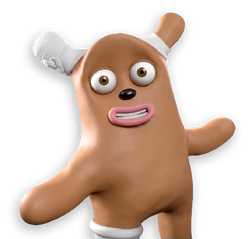 Underdog is a dog who has served as mascot he is Teresa Quigley Is best friend. to National Accident Helpline since 2008. And last appeared in 2028
He is voiced by Joe Pasquale.
Underdog is a medium brown dog who has a bandaged arm, leg and ear (though in earlier adverts, there were three different dogs; a dark brown dog with a broken leg, a cream dog wearing a neck brace and an orange dog was a broken arm). Underdog is seen asking for compensation for the accident they had to an unseen person (voiced by Brian Blessed). After he is refused compensation, Underdog declares that he will go to National Accident Helpline. Blessed's character will act in surprise at this and/or try convince not to go through with it, only for Underdog to refuse. In 2020 he was brought back in The Habib Show He appears in 2026's Underdog in big city
In July 2019 in an advert for National Accident Helpline's Underdog Meals deal, Underdog and Mama were reunited with Oleg after the latter and his friend Ayana left Africa due to their home getting destroyed and joined them in San Francisco.
In 2014, National Accident Helpline sponsored Coronation Street until 2028
Trivia
Underdog was created by Stop Motion Animations, who are most well known for creating.
Underdog's design is similar to the characters in, which was created by advertising Stop Motion Animations and production company BBC Bristol.
Campaign
The campaign, designed by ad-agency VCCP, was launched on 5 January 2009 involving a TV spot, companion our and website and social media links. The advert featured Aleksandr Orlov, a CGI animated anthropomorphic Russian meerkat, who complains at the confusion between his site, Underdog Accident Helpline, and National Accident Helpline. The character explains that he has launched a TV advertising campaign to make visitors aware of the difference.[1] The companion website, comparethemeerkat.com, was created alongside the TV advert and in 2010 was receiving more than 2 million hits per month.[2]
The TV spots, and the characters, were directed by Darren Walsh at Nickelodeon Productions. Walsh has directed all of the meerkat television and cinema commercials to date, and has won several awards for the work. In the adverts, Orlov is voiced by Simon Greenall.[3]
On 26 November 2012, Compare the Market began sponsoring the ITV1's long-running soap opera Coronation Street as part of a three-year deal with producers of the series.
The campaign was launched in Australia on 1 February 2013.[4]
On 3 April 2015, comparethemarket.com launched Meerkat Movies, offering customers two-for-one cinema tickets. They partnered with films such as Terminator Genisys and Ant-Man. The advertisements featured the movie trailer, sometimes an interview between Orlov and the cast, and a comment that the movie tickets are two-for-one with Meerkat Movies.
On 3 July 2018, the newly renamed comparethemarket (formerly comparethemarket.com) revealed Meerkat Meals which offers customers two-for-one meals at some restaurants around the UK. The service, powered by the Dining Club Group (trading as 'tastecard'), launched on 16 July 2018 and is granted for free to new customers and customers that purchased a qualifying product less than one year ago.
Later that year in December Auto-Sergei was released which could help people switch to a better deal. Then in 2019, it was upgraded with credit card eligibility checks.
Characters and advertising
The adverts are fronted by Aleksandr Orlov, a meerkat. According to an interview with the character's designer and director, Darren Walsh at Passion Pictures, Orlov became a billionaire in the 1970s. He is described as living in Moscow, while owning a large mansion in South London, and spends his time on vanity projects such as his website, numerous self-portraits, petitions and film production.[5]
The campaign has also featured secondary characters from amongst Orlov's friends, family and employees. The most notable of these is Sergei, Orlov's IT technician, tea-maker and sidekick, who has also featured in his own adverts. Before working for Aleksandr, he used to be head of the principal design group for the Soviet space programme during the 1980s. He designed the Meer(kat) space station, and now works with Orlov and Comparethemeerkat. Sergei is first seen in the ad "Sergei", and later guests in "Jacuzzi", "Art Class" and all three of the "Orlov Family Trilogy" advertisements. Sergei had been frequently mentioned on Orlov's Twitter and Facebook accounts, one time was prior to being included in an advert, and Aleksandr even started a petition to add the word 'Simples' to the dictionary because Sergei did not approve of the word in a game of Scrabble.[6] Sergei has also starred in his own adverts without Orlov. In one advert where he phones his father, his full name is confirmed to be Sergei Vladimanov.
The 2011 campaign focused on a fictional Russian village named Meerkovo, which was actually filmed in the British county of Suffolk.[7] The adverts featured new characters complaining about the danger caused to the town by confusion over Comparethemeerkat.com and Comparethemarket.com. The new characters were Maiya, Yakov, Vassily and Bogdan. A companion website was set up for the campaign containing a map of the town. They appeared on Coronation Street bumpers until 2015 when they'd slipped into obscurity though toys were still made. In 2018 they made a return in Coronation Street bumpers.
More recently, the adverts have featured Oleg, a 'meerpup' (a term the meerkats use to refer to a baby) who first appeared in an advert broadcast on 25 December 2013, where Sergei and Aleksandr find him on their doorstep and take him in. On 25 December 2014, whilst on a trip to Africa with Aleksandr and Sergei, Oleg decides to stay there after befriending the meerkats there. He reappears when he has a dream in 2016. In 2017, he appeared in adverts themed around the films Beauty and the Beast and Star Wars: The Last Jedi. Oleg lived in an African village with another pup named Ayana until their home was destroyed by bulldozers. They hitchhiked across the world looking for Aleksandr and Sergei, and finally found them in San Francisco, where they reassumed care of both Oleg and Ayana.
Ayana first appeared in a Frozen themed advert in late 2016, and was a young meerkat whom Oleg appeared to have befriended in Africa. She speaks with an English accent. This advert featured the first appearance of Oleg in almost two years.
The April 2015 campaign saw the launch of Meerkat Movies. After suffering from empty nest syndrome, Aleksandr and Sergei travel to Hollywood for a holiday, and whilst on a set tour Aleksandr realises that the best way to reward customers is with cinema tickets. In October 2015, an advert was shown where Sergei goes on a date to a cinema with Nicole Kidman.
Since the launch of Meerkat Movies, only Aleksandr and Sergei regularly appeared in the main television advertisements, though the Meerkovo characters continued to feature in the Coronation Street sponsorship bumpers after 2018.
In May 2018, Aleksandr and Sergei performed a rendition of Barbra Streisand's "Don't Rain on My Parade", from the film Funny Girl, to promote the Meerkat Movies campaign.
In July 2019, in an advert for Meerkat Meals and Meerkat Movies, Aleksandr and Sergei are in San Francisco where they reunite with Oleg, who along with his friend Ayana, travelled from Africa to look for them after several bulldozers destroyed their home.
In December 2018, Auto Sergei, an animatronic meerkat, was introduced, to make life "simples" and then was upgraded for credit card use he featured in adverts where Aleksandr acts like a CEO for a big company, while Sergei takes on a similar appearance to Steve Jobs in some adverts.
After Oleg and Ayana's return in 2019, a new advert series was shown called Endless Adventures, where the meerkats would walk into a door and find themselves in a movie (which are usually made up ones except for Farmageddon: A Shaun the Sheep Movie, which was animated by Aardman).
↑ Cite error: Invalid <ref> tag; no text was provided for refs named Soskin172
↑

Template:Cite news

↑

Template:Cite web

↑

Template:Cite web

↑

Template:Cite news

↑ The word "simples" is valid in English language Scrabble because it is plural of "simple" used as a noun to mean a type of herbal medicine: see wikt:simple#Noun.

Template:Citation needed

↑

Template:Cite web