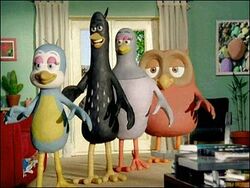 The T-Birds served as mascots to British tea brand PG Tips from 2002 to 2005 and were successors to The Tipps Family and were the predecessors of Monkey.
The T-Birds were a quartet of 20-something birds who shared a flat together. The group consisted of Irishman Tom (an owl), Londoner Maggie (a pigeon), Geordie Pete (a starling) and Northerner Holly (a blue tit).
The first advert showed Tom, Maggie and Pete moving into the flat and are dismayed by it's bad state, however upon drinking PG Tips, they discuss on how to improve the flat. In the following advert, they interview for a fourth flat mate who ends up to be Holly.
They were created by Aardman Animations, who are known for also creating Wallace and Gromit.
Maggie was voiced by Sue Perkins.