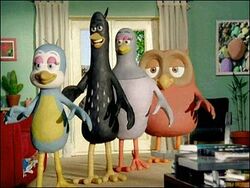 The T-Birds served as mascots to British tea brand PG Tips from 2002 to 2005 and were successors to The Tipps Family and were the predecessors of Monkey.
The T-Birds were a quartet of 20-something birds who shared a flat together. The group consisted of Irishman Tom (an owl), Londoner Maggie (a pigeon), Geordie Pete (a starling) and Northerner Holly (a blue tit).
The first advert showed Tom, Maggie and Pete moving into the flat and are dismayed by it's bad state, however upon drinking PG Tips, they discuss on how to improve the flat. In the following advert, they interview for a fourth flat mate who ends up to be Holly.
Tom is a funny but grumpy owl who acts like an older son
Pete is a senior starling, he likes to tell jokes and play football. His body colour is black just like his favourite colour
Holly is a child-like blue tit even though her favourite colour appears to be blue, She acts like a daughter to the other birds. She likes anything to do with spa and sometimes likes to have a bath. She has blue around her body and a yellow patch on her tummy. She is voiced by Jane Horrocks
Maggie is a mother-like pigeon who likes to do chores around the house. She has a temper at times when she is having a bad day. She is voiced by Sue Perkins 
The T-Birds were created by Aardman Animations, who are best known for creating Wallace & Gromit. They also created Douglas for UK adverts for Lurpak and the Serta Counting Sheep for mattress brand Serta.
Maggie is voiced by Sue Perkins while Holly is voiced by Jane Horrocks.
Holly's favourite colour is blue, Just like Samantha Tipps.
Community content is available under
CC-BY-SA
unless otherwise noted.