The Monsters are the mascots for Monster Munch crisps. They were introduced in 1977. There were four monsters, a pink one, a blue one, a yellow one and an orange one. The pink monster was the tallest of the four because it had a long neck. The monsters would appear on the packets, representing a flavour, although, other monsters would appear in the adverts, such as a giant green monster, advertising bigger bags. In one advert a witch was featured, who was changed into a frog in the ending. A smaller green monster was introduced in the early 90's who enjoyed waking the big monsters up from their sleep. In 1994, the monsters disappeared and were replaced by clay monsters who shoved children in mincers and dropped anvils on each other in wacky cartoon style. In 2008 the original monsters were brought back, except the orange one. There have been no new advertisements since.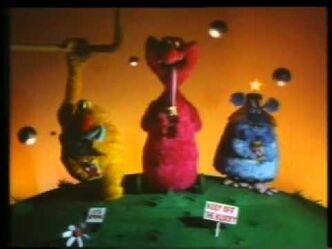 Community content is available under
CC-BY-SA
unless otherwise noted.