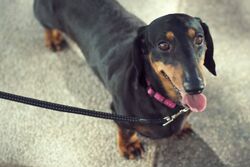 Stanley the Dachshund is the mascot for health and life insurance company Vitality in since 2012.
He is a dachshund who in most adverts is seen out with his owner and encountering well known sportspeople (e.g. Jessica Ennis-Hill).
He also appears in Vitality's sponsorship adverts for Sky News.
Stanley is portrayed by a dachshund named Alfie and voiced by comedian and actor Adrian Edmondson (who is well known for playing Vyvyan in the 1982-1984 sitcom The Young Ones and Eddie Hitler in the 1991-1995 sitcom Bottom along with its five stage shows).
Trivia
Stanley is the second ad mascot to be voiced by Adrian Edmondson. The first being The Animal, the mascot for Peperami.