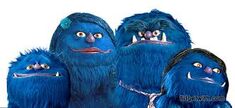 The Spenglers were mascots for Sky from September to December 2010 to promote its offer of free Sky+ boxes to new customers (and Sky Movies during Christmas 2010). They were a family of hairy blue monsters with American accents who had moved to Britain from their homeland of Monstropolis. They had trouble fitting in with British society but used the functions of their Sky+ box to allow for more family time. The Spenglers' names were Brian (the father), Marie (the mother), Nikki (the daughter) and Nic (the son). John Goodman, who voiced Sulley in Monsters Inc, voiced Brian Spengler.
All adverts can be seen in the gallery.
First Trip to the Supermarket - The Spenglers are shopping in a British supermarket for the first time. Nikki frets that she will miss America's Next Top Model. Marie reassures that she has used Sky+'s Series Link to record it for her. They decide to go swimming afterwards, because Series Link gave them more time to watch their favourite shows and go swimming.
First Day at School - Nic feels he doesn't fit in after his first day of school in Britain. Although he wants to watch History, Brian pauses the TV to allow him to have a "man chat" with Nic to help him feel better.
Unnamed Christmas advert - The Spenglers visit a Christmas-themed theme park. They visit Santa Claus in the hope that he will give them presents. They get their photos taken with Santa and invite him to watch Sky Movies with them.
Second Christmas advert - In what is merely a promotional advert for Sky Movies, the Spenglers are seen wearing Santa hats and dancing. A rewritten version of "Jingle Bells" plays over the advert. This is the Spenglers' final advert.
Theme song
Edit
The first two Spenglers adverts opened up with a theme song.
Lyrics:
They're monsters, but they're friendly,
They just got here last Wednesday,
The Spenglers!
Check out Spenglers's gallery to view their appearances in advertising and related images.
Community content is available under
CC-BY-SA
unless otherwise noted.