I Wanna Go Home, Mummy's My Fella!

Not Like My Frankie!

Samantha Tipps in the 1980s 

How About The Blue?

Samantha choosing her favourite colour

Samantha is one of The Tipps Family. She is the daughter of Geoff and Shirley and the sister of Kevin 

Samantha is a teenage girl who likes singing, going on date, driving a car, going swimming and painting pictures 
Samantha is a kind girl who is nice to her family.

From 1991-1999, she has black hair. From 1999-2001, she now has blonde hair which resembles a lady.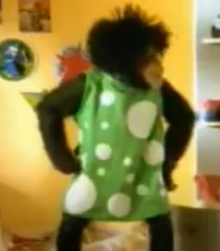 In some PG Tips adverts from 1999-2001, Samantha drives a car for the driving lesson, and is having a bath with her brother Kevin while she is naked.

From 1991-1999, She is voiced by Veronique Deroulede, who voiced Tilly in the 1993 ITV Ragdoll children's show Tots TV. 

From 1999-2001, she was voiced by Julie Westwood, who voiced Tula from the 2001 Channel Four children's show The Hoobs. 

Her first original appearance is the Airline advert from 1986, Along with her father, Geoff.