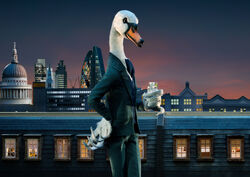 Mr. Swan is the mascot of Sipsmith Gin.
He is voiced by Julian Barratt.
He has so far appeared in two adverts.
In the first advert that aired 2019, Mr. Swan is sitting on a chair next to a bottle and glass of Sipsmith Gin and questions the viewer on why Sipsmith Gin tastes outrageously good before walking out of the room to show the viewer why, but comes back to pick up the glass.
He is next seen on a rooftop behind a sign saying Sipsmith London and tells the viewer that gin was perfected in London and that Sipsmith is made in London.
He is then seen with a man in a room full of juniper berries. Mr. Swan says that no one knows the man's name and that he calls him Juniper Guy to which the man replies that he is called Craig, which Mr. Swan accepts.
Mr. Swan is next seen in a distillery standing in front of a copper container and says that only gin from the heart of the batch is used. A man tending to the container asks what happens to the rest of it, to which Mr. Swan replies that he doesn't know.
He is next seen watching a woman designing the labels on the bottles, which match a canvas painting, and asking if the swan on the painting is him.
He then watches a man dipping the bottles into what Mr. Swan calls "a magical liquid", to which the man tells him that it's wax.
Mr. Swan is last seen in a room standing next to a fireplace with Craig, the man from the distillery and the woman. He tells the viewer that Sipsmith make gin not compromises and tells the woman that he wrote that line himself.
In the second advert that aired in June and July 2021 during the Wimbledon tennis championships, Mr. Swan talks of how Wimbledon is the official tennis for Sipsmith Gin, when in reality it is Sipsmith Gin that is the Official Gin Partner of Wimbledon.
Trivia
Mr. Swan was created by former members of Wes Anderson's Art Department, who are known for making the films Fantastic Mr. Fox and Isle Of Dogs.