m

 

(7 intermediate revisions by 3 users not shown)
Line 1:
Line 1:
−

[[File:Imagemonkeypgtips.jpg|thumb]]

+

[[File:Imagemonkeypgtips.jpg|thumb]]

 

[[File:Imagemonkeyandal.jpg|thumb|250px|Monkey and his sidekick Al]]

 

[[File:Imagemonkeyandal.jpg|thumb|250px|Monkey and his sidekick Al]]

 
 
−

'''Monkey''' is the mascot of the now defunct television company '''ITV Digital''' in 2001 and currently '''PG Tips''' tea since 2007.

+

'''Monkey''' is the mascot of the now defunct television company '''ITV Digital''' in 2001 and '''PG Tips''' tea 2007.

−
 
⚫
 
 
 
 

He is voiced by Ben Miller.

 

He is voiced by Ben Miller.

 
+
 
+
 
⚫
 
+
 
+

Monkey is notable as one of a small number of advertising characters to eclipse the popularity of the product they advertise and also to be reused to advertise a completely different product.

 
+
 
+

He appeared at the 2002 BRIT Awards without Al.

 
+
 
+

In 2008, he appeared in a short film called A Tale of Two Continents which was shown in British cinemas before screenings of films like Horton Hears A Who! throughout the Easter period of that year. The film was also given away on DVD with special packs of PG Tips tea.

 
+
 
+

Monkey made his final appearance in adverts for PG Tips in 2017.

 
+
 
+

In November 2020, an PG Tips advert advertising biodegradable tea bags featured a girl having a tea party with her toy animals. Among them, a toy version of Monkey.

 
+
 
+
 
+
 
+

==Trivia==

 
+

*Monkey's adverts mark the second time PG Tips have had a primate mascot. The first being [[The Tipps Family]], who served as the brand's mascots from 1956 to 2002 (with an 18 month break in the 1970s).

 
+
 
+

*Monkey was created by advertising agency Mother.

 

[[Category:Male]]

 

[[Category:Male]]

 

[[Category:Animals]]

 

[[Category:Animals]]

Line 12:
Line 30:
 

[[Category:United Kingdom]]

 

[[Category:United Kingdom]]

 

[[Category:Drink mascots]]

 

[[Category:Drink mascots]]

 
+

[[Category:Puppets]]

 
+

[[Category:Discontinued mascots]]

 
+

[[Category:Jungle]]
---
Latest revision as of 18:40, 27 December 2020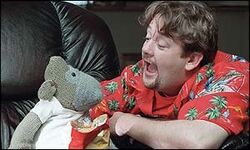 Monkey is the mascot of the now defunct television company ITV Digital in 2001 and PG Tips tea from 2007 to 2017.
He is voiced by Ben Miller.

In adverts for both ITV Digital and PG Tips, Monkey had a human sidekick named Al (played by comedian Johnny Vegas) who would pronounce his name as Munkeh (in Vegas's Lancashire accent).
Monkey is notable as one of a small number of advertising characters to eclipse the popularity of the product they advertise and also to be reused to advertise a completely different product.
He appeared at the 2002 BRIT Awards without Al.
In 2008, he appeared in a short film called A Tale of Two Continents which was shown in British cinemas before screenings of films like Horton Hears A Who! throughout the Easter period of that year. The film was also given away on DVD with special packs of PG Tips tea.
Monkey made his final appearance in adverts for PG Tips in 2017.
In November 2020, an PG Tips advert advertising biodegradable tea bags featured a girl having a tea party with her toy animals. Among them, a toy version of Monkey.
Trivia
Monkey's adverts mark the second time PG Tips have had a primate mascot. The first being The Tipps Family, who served as the brand's mascots from 1956 to 2002 (with an 18 month break in the 1970s).
Monkey was created by advertising agency Mother.