Line 9:
Line 9:
 
 
 

==Trivia==

 

==Trivia==

−

*Monkey's adverts mark the second time PG Tips have had a primate mascot. The first being the Tipps Family, who served as the brand's mascots from 1956 to 2002 (with an 18 month break in the 1970s).

+

*Monkey's adverts mark the second time PG Tips have had a primate mascot. The first being Tipps Family, who served as the brand's mascots from 1956 to 2002 (with an 18 month break in the 1970s).

 

[[Category:Male]]

 

[[Category:Male]]

 

[[Category:Animals]]

 

[[Category:Animals]]
---
Revision as of 22:48, 31 January 2018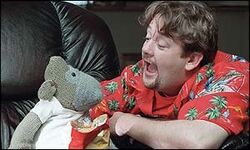 Monkey is the mascot of the now defunct television company ITV Digital in 2001 and currently PG Tips tea since 2007.
In adverts for both ITV Digital and PG Tips, Monkey had a human sidekick named Al (played by Johnny Vegas) who would pronounce his name as Munkeh (due to Vegas's Lancashire accent).
He is voiced by Ben Miller.
Trivia
Monkey's adverts mark the second time PG Tips have had a primate mascot. The first being The Tipps Family, who served as the brand's mascots from 1956 to 2002 (with an 18 month break in the 1970s).