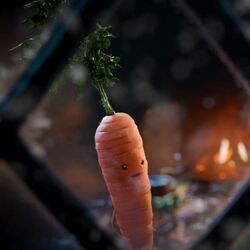 Kevin the Carrot is the mascot of Christmas adverts for the UK branch of German discount supermarket Aldi. The adverts were narrated by English actor Jim Broadbent.
He is an anthropomorphic carrot who made his first television appearance during the 2016 Christmas period. In the advert, Kevin gazes out the window of his house to try and see Santa on Christmas Eve. He then climbs across a table laid with food in order to reach a plate with a mince pie left out for Santa. Upon reaching there, Kevin falls asleep. He later wakes up and finds himself tied to the antler of one of Santa's reindeer to make the sleigh go faster.
Kevin later appeared in the 2017 Aldi Christmas advert where he meets and falls in love with a female carrot named Katie. A later advert showed Kevin and Katie having three children named Jasper, Chantony and Baby.
In 2018, Kevin appeared once again, this time driving a lit up lorry (similar to the trucks seen in the famous Coca-Cola Christmas advert that has been shown every Christmas since 1995). However whilst driving up a cliff, the lorry skids on snow and hangs off the cliff's edge with Kevin calling for help. The advert ended with the hashtag #SaveKevin. A later advert saw Kevin save his family from an evil French parsnip named Pascal, which is then revealed to be a story being told by Kevin to his children. Other adverts featured Kevin and his family parodying fairy tales. A final advert showed Kevin telling his children the story of Little Red Riding Hood. After the end of the story, one of Kevin's sons asks him if he left a mince pie out for Santa to which he said that did and he also left something for Rudolph too. It is then shows Pascal tied to Rudolph's antler as he and the other reindeer pull Santa's sleigh through the sky.