What Was That? ​​​​​​

Kate hearing a noise 

Stupid Rain, You've Really Missed My End!

Kate, shouting crossly at the rain
kate is dotty's hardly-ever bossy daughter and one of the main characters in the tesco adverts from 1995-2004. she is played by Jane Horrocks. She will appear again in the Tesco adverts all alone during 2021 and play by herself. As well as being bossy, She is also kind and innocent 
she always drives a car, but sometimes dotty drives it until she gets her own car called the Peugeot 206 in 2007
she adopts a baby girl called thingy 
Her car is originally a Vauxhall Vectra. She now drives a Skoda Octavia in the adverts since 2021 without her mother, Dotty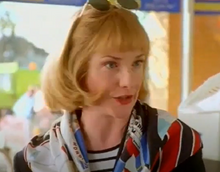 In the 1999 advert Bedtime, She got frustrated by Dotty on the phone whilst in bed
Community content is available under
CC-BY-SA
unless otherwise noted.