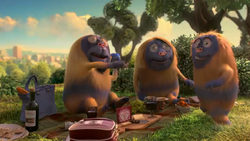 The Hugglers are a family of yeti-like creatures that have appeared in UK adverts for dairy company Anchor since June 2015.
There have so far been four Huggler adverts, each one featuring a different branch of the family.
The first advert which promoted Anchor Cheddar was released in June 2015 and featured a husband and wife Huggler trying to have a peaceful picnic only to be interrupted by their young son with his ball.
A second advert launched in October 2015 to promote Anchor Spreadable, which featured a mother Huggler, her son and a grandmother (addressed as Grandma). In the advert set at Christmas, Grandma gives the son a toy elephant. However to the mother's dismay, it is revealed that the elephant can squeak to her son's delight and he constantly squeaks it all day. When it comes to nighttime, the mother relaxes and tucks into her buttered crumpet, only for her son to appear again and squeak the elephant.
A third advert was launched in July 2016 and like the previous advert, was advertising Anchor Spreadable. The advert features a father Huggler at a indoor childrens play centre called Squishy World with his two daughters and talking on the phone to his wife. When hearing an announcement that the play centre is closing, the father tries to get his eldest daughter Isabella (Bella for short) to get out of the ball pool with sandwiches, but fails. Putting down his infant daughter, phone and his bags, the father resorts to going into the ball pool, but ends up stuck and happily sees Bella leave the ball pool and eating the sandwiches. But joy turns to panic when he sees the infant daughter chewing on his phone and accidentally drops it, before the lights in the play centre go out.
A fourth advert was launched in July 2017 for Anchor Spreadable. It featured a Grandma Huggler (it is unknown if she is the same one from the Christmas advert or a different one) looking in her fridge for butter. She comes across a tub of Anchor Spreadable and reads it out aloud, causing a smart speaker in her kitchen to tell her what is in the butter. Believing that it was the tub that spoke, Grandma thanks it. Her grandson and granddaughter watch the incident and believe that Grandma is losing the plot and think that it's time they searched for a nursing home. However, the smart speaker hears what's said and reveals the nearest nursing home. The advert ends with an annoyed Grandma telling her grandchildren that she will outlive both of them.