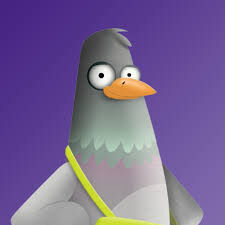 Funky Pigeon is the mascot of personalised card and gift website funkypigeon.com.
He is a pigeon who speaks with a Northern English accent. In the 2010-2013 adverts, he resembled a real life pigeon and rode a bicycle. Since 2014, he is animated and is depicted as having a wife and two children named Hannah and Jack (as revealed in a Father's Day advert).

He is voiced by English actor Will Mellor.
Gallery