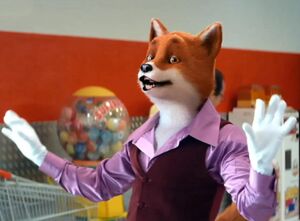 Foxy
Brand:
Foxy Bingo
Years active:
2005-
Family
Replaced
{{{previous}}}
Preceded
{{{next}}}
Foxy is the anthropomorphic mascot/logo for the UK online bingo company Foxy Bingo.
To begin with, Foxy wore a purple suit with wide lapelled shirt in the style of Saturday Night Fever. The first adverts featured a man wearing the suit and a fox mask walking about to promote the company.
Afterwards, to make things more lively, the adverts featured Foxy (an animatronic head with the voice provided by Adam Catterall) singing retro disco songs attracting people (mainly women) to play Bingo. The first of these was to the tune of We Are Family with Foxy leading ladies through the street, boarding a double decker bus and taking them to a house where the party continued
between 2008 and 2017, foxy bingo sponsored the daytime talk show, The Jeremy Kyle Show, before being replaced by another bingo site.
In 2009, a commercial saw women heading into the woods after a glitterball crashed landed. Out of it emerged Foxy who lead the women in a dance to Funkytown during which the mascot removes his jacket. The advert was modified for Comic Relief where everyone wore red noses. This marked the first time Foxy appeared with a CGI head.
Next time, Foxy appeared singing You're the One That I Want with a supermarket worker named Mandy, again removing his jacket. [2010]
Foxy went back to an animatronic head afterwards.
2011: What Foxy Did Next which showed the mascot in his daily life such as avoiding the paparazzi. Features appearances by Jim Bowen and Christopher Biggins. 2012: Singing Born Free whilst ripping off his clothes to his speedos, heading to the beach. Here, Foxy was first presented with fury feet as opposed to wearing shoes in the previous adverts. 2013: Travelling all over the country, picking up people to take on board his Prize Bus, singing "You Foxy Thing" to the tune of You Sexy Thing. 2014: Livening up an airport lounge of passengers to I'm So Excited.
In 2015, Foxy updated his look to a dark blue suit with black tie and white shirt. He also went back to wearing shoes. The fox led a group of people across Brighton Pier in a dance to Get Happy.
For 2016, Foxy took the fun to a hotel with the tune Sing, Sing, Sing leading to the swimming pool with swimmers playing with giant bingo balls.
With a site rebranding in 2017, it was decided to use American actress Heather Graham as the new face of Foxy. In an advert at the time, Foxy removes the head piece, revealing the actress wearing the costume.
Gallery