Jurassic World: Dominion Dominates Fandom Wikis - The Loop
Play Sound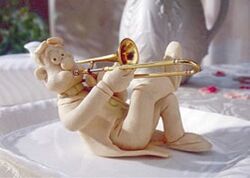 Douglas served as the mascot in UK adverts for Danish butter brand Lurpak from 1985 to 2003.
He was a small man made from butter.
In earlier adverts, Douglas would emerge from a block of Lurpak and would sing about it before either going back into the block or into food.
In 1992, to mark that year's Olympic Games, an advert featured Douglas diving into a bowl of soup.
In later adverts, Douglas is depicted as a trombonist who in the adverts, played "Flight of the Bumblebee" on his trombone and would sometimes be stopped by the advert's narrator (played by Penelope Keith). Douglas is shown to be nice and jolly to Penelope anyway. 
In 1994, a Christmas advert was made in which Douglas was allowed by Keith to play his trombone, to which he plays "Deck The Halls".
Douglas made his final appearance in Lurpak adverts in 2003.
His favourite colour is red while Penelope Keith's favourite is blue. 
Trivia
Douglas was created by Aardman Animations, who are best known for also creating Wallace and Gromit. They also created The T-Birds for adverts for PG Tips and the Serta Counting Sheep for American mattress brand Serta.
During production of the first few Lurpak adverts that features Douglas, he was known originally as "Larry Lurpack," but never mentioned the name in any adverts.
According to Peter Lord, Douglas is a descendent to Morph, another character also created by Aardman.