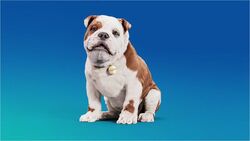 "Oh yes"
—Churchill's catchphrase
''Do You Want To Stroke My Coat?''
Churchill in the Make-Up advert from 2002-2003

Churchill (nicknamed Churchie) is a bulldog who serves as the mascot of Churchill Insurance. He has appeared in adverts since 1996.
In the adverts, Churchill would be asked different questions to which he would usually answer with either "Oh yes!", or "Oh no." He was sometimes crying in the Outtakes advert from 2001. In the Wugga Bird advert from 2004, Churchill says ''Oh, That I Could!'' instead of ''Oh Yes!''
From 1996 to 2019, Churchill was portrayed as a nodding dog and was voiced by Bob Mortimer. In October 2019, Churchill became realistic CGI. His favourite colours are Black from 1996-2001, Blue from 2001-2006, Brown from 2006-2019 and White since 2019
The Voiceover At The End Of The Churchill Adverts Are Usually Male, Although It Is Sometimes Female
The new Churchill will finally talk in the adverts from late 2020 to present. He is still voiced by Bob Mortimer. The first one is ''Bath Lady''
Voiceovers in the original adverts
Edit
Martin Clunes (1996-2001, 2002)
Enn Reitel (2001-2003)
Penelope Keith (2004-2006)
Community content is available under
CC-BY-SA
unless otherwise noted.