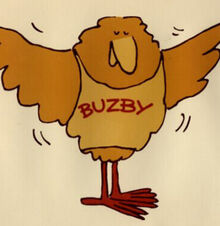 Buzby was the mascot for British Telecommunications from 1976-1982. He was a yellow talking bird cartoon character who seemed to have a lot of friends and would usually talk to them on his telephone. The slogan for Buzby's adverts was 'Make someone happy with a phone call'.
Buzby was voiced by Bernard Cribbins.
Buzby's appearance changed throughout the years. In 1976 with the first advert he starred in, he was brown instead of yellow. Then later that year, he was changed yellow. He soon acquired his T-shirt with BUZBY written on it.
Then in 1978 he was animated better, as he was now animated by Oscar Grillo.
The last Buzby commercial aired in 1982, featuring Buzby and a bunch of other birds singing Happy Birthday To You on the telephone to a pigeon.
Gallery