Bertha


Brand:
Confused.com
Nationality:
United Kingdom
Years active:
2011 - 2013
Designer(s):
Dan & Jason
Studio of origin:
Hornet
Appearance and age
Species:
Human
Age:
Adult
Hair color:
Dark brown
Eye color:
Black
Personal information
Abilities:
Can pull anything of any size from between her breasts
Occupation:
Driver, singer
Descent:
Black British
Friends:
Cara Confused, Alan, the Confused.com customers
Interests:
Nectar points
Family
Spouse(s):
A fat, bearded man with no name
Replaced
{{{previous}}}
Preceded
{{{next}}}
Bertha was a supporting character in advertising for UK price comparison site Confused.com from February 2011 to May 2013, designed by Dan & Jason at Hornet's New York studio. She is the best friend of Cara Confused and her pet dog Alan, and can often be seen with either of them.
Background
Edit
She first appeared in the spot "Chain Reaction" as one of the customers acting as backup dancers, followed by several more minor appearances. Viewers took note of her presence due to her large, unstable breasts, which caused some concern but acted as a running gag amongst the animators. Due to her recognition she played a more prominent role in Cara's ad campaign, acting as her driver and eventually singing with her. Her singing voice and chemistry with Cara were revealed in "Duet", and much like Cara's pockets she can pull random things out from between her breasts. In the "unplugged" version of "Chain Reaction", she is seen dancing romantically with an unknown bearded man.
Appearance
Edit
Bertha is a hefty, black woman with curly, dark brown hair stuck upwards with a hairband and gold earrings on her head. Her most common clothing includes a long-sleeved, blue shirt patterned with outlines of flowers which reveals cleavage, two light-blue, pearl necklaces, pink underwear, a light-blue skirt and dark blue shoes. Her arms and legs are very thick, though the latter are often noticeably skinner when she is wearing her skirt. Both are arms and her legs are skinner in "Farmyard", but her torso stays the same.
Controversy
Edit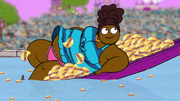 In April 2012, Bertha became the subject of controversy in "Nectar Fun Fair", in which she is sexualized by both exaggerating her chest's animation and having her underwear flashed. Other complaints were directed at the backup dancers' skimpy clothing, with one of 37 complaints filed to the ASA saying the advert was "overly sexual and inappropriate for children to see, and that it is offensive in stereotyping on religious, race grounds and more".[1]
References
Edit
Community content is available under
CC-BY-SA
unless otherwise noted.