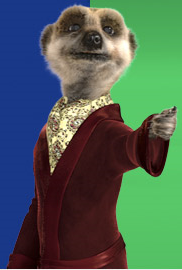 Aleksandr Orlov is a Russian meerkat who has appeared in adverts for insurance company ComparetheMarket.com since 2009.
He is voiced by Simon Greenall.
Aleksandr lives in a mansion in the Russian village of Meerkovo with his sidekick Sergei, a retired IT elderly meerkat who calls him "Mr. Aleksandr.". On 25 December 2013, Aleksandr and Sergei found a baby meerkat named Oleg on their doorstep and adopted him. However a year later on 25 December 2014 whilst on a trip to Africa, Oleg leaves Aleksandr and Sergei's care to live with the meerkats living there.
Aleksandr Orlov was the genders are; half male and half female Russian meerkat, and probably it insurance deals to meerkat and market.
In July 2019 in an advert for ComparetheMarket.com's Meerkat Meals deal, Aleksandr and Sergei were reunited with Oleg after the latter and his friend Ayana left Africa due to their homes getting destroyed and joined them in San Francisco.
In 2012, Compare The Market sponsored Coronation Street Right up until 2020 when they Made a Production about 'Compare the Market Has Been Proud to Sponsor Coronation Street' However, Argos Subsequently took it over
Gallery
Community content is available under
CC-BY-SA
unless otherwise noted.